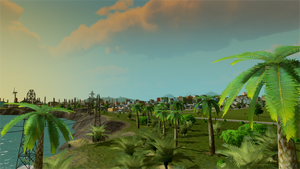 A theme is the climate aspect that changes the appearance, the effects, and the terrain to a specific theme. There are different types of themes: European, boreal, temperate, tropical, and winter. Most themes are purely aesthetic that changes the atmosphere and environment, whereas some themes modify the appearance of buildings.[1]
Custom themes can be created using the theme editor. The theme editor is capable of creating unique environments, by using custom textures and tools.
The boreal theme represents the colder climates of northern countries, such as Scandinavia. The climate color is toned down with darker colors of grass and water to present a cooler, less vibrant climate. Flora contains pine and conifer trees with a few different types of trees and bushes for variation.[1]
The European theme revolves around the appearance, the styles, and the climates of a European city. Unlike other themes, the European theme consists of wall-to-wall buildings, with over 70 different styles of buildings. The climate is the sunny theme slightly toned down for a cooler feel.
This theme was added on Patch 1.1.0 on May 19, 2015. The features included in the theme, such as the wall-to-wall buildings, require the use of the European theme.[2]
Temperate
Edit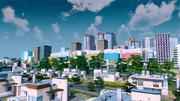 The temperate theme represents the central and southern European climates. The climate is visually brighter, warmer, with blue skies, vibrant colors, and a wide array of flora.[1]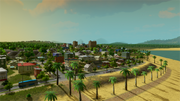 The tropical theme represents the warm, sunny climates of California and the tropical island climates. The climate expresses warmer colors with a hint of a faint orange-yellow glow with a complementary color for the sky. The terrain is a different shade of green compared to the sunny theme. Lush palm trees and bushes create a visually appealing appearance that resembles the tropical island look.[1]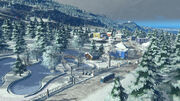 The winter theme revolves around snow and weather-related issues. Citizens, buildings, and other aspects of a city will adjust according to the weather. Winter maps can also be created in the map editor.
The winter theme is exclusive to Cities: Skylines Snowfall.[3][4]
References
Edit
↑ 1.0 1.1 1.2 1.3 "Cities: Skylines - Dev Diary 10: Themes". Paradox Interactive. 17 February 2015.
↑ "Conten Update 1.1.0 is LIVE on retail!". Paradox Interactive. 19 May 2015.
↑ "Cities: Skylines Snowfall". Paradox Interactive. 19 January 2016.
↑ "Cities: Skylines - Snowfall - Dev Diary 1: Prepare for Snowfall". Paradox Interactive. 20 January 2016.
Ad blocker interference detected!
Wikia is a free-to-use site that makes money from advertising. We have a modified experience for viewers using ad blockers

Wikia is not accessible if you've made further modifications. Remove the custom ad blocker rule(s) and the page will load as expected.