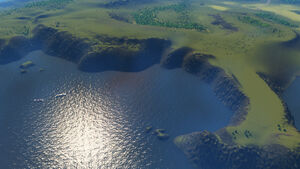 Landscaping
is a tool that allows terraforming, decorations, and water structures. The tool is unlocked when meeting the Tiny Town milestone. The landscaping tool was released in a
free patch update
on March 22, 2016.
[1]
Landscaping
Edit
Landscaping allows mayors to use the land's soil and form new smooth or steep landscapes. The tool is capable of lowering or elevating the terrain by adding or removing soil. Soil availability is determined by the amount of soil being taken or added to the terrain. If the terrain is lowered, soil availability increases; if the terrain is elevated, soil availability is decreased. In other words, if soil availability is full or depleted, terrain cannot be lowered or elevated respectively. If soil availability is full, the soil must be placed on another source. If the soil availability is empty, the soil must be taken from another source.
Landscaping features three sizes of brushes and three types of brush strengths. Depending on the size and strength of the brush, the amount of soil being added or removed will also be affected.
Decorations
Edit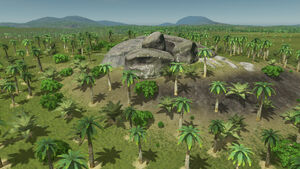 Paths, floral, and rocks can be freely placed on available map tiles. Paths work similarly to roads, except the size of building paths is much smaller than roads, fits in tight spaces, and works only for pedestrians. Floral and rocks are aesthetic decorations that allows cities to look more lively and natural. The type of floral is determined by the theme of the city, where a tropical city will have palm trees in contrast to a winter city having more evergreen trees.
Water structures
Edit
Canals, quays, and flood walls allows beautification of the city using water features. Canals come in three depths: shallow canal, medium canal, and deep canal. Shallow canals hold less water and help regulate waterflow at the ends of the canals. Deeper canals hold more water and are prone to flooding unless regulated by the shallow canals. Quays are concrete walls on shorelines and help level the terrain and provide suitable zoning. Flood walls control water by prevent water from flowing to the other side.
| Building | Cost | Upkeep | Description |
| --- | --- | --- | --- |
| Quay | ₡10/cell | ₡0.01/week/cell | Use quays to give waterfront a nice finish. Quays are concrete walls built on the shore to even out terrain differences and allow for zoning near the water. |
| Flood wall | ₡10/cell | ₡0.01/week/cell | If your canals have spots that are prone to flooding, you can use flood walls to control the water. |
| Shallow canal | ₡10/cell | ₡0.01/week/cell | Shallow canals accept only a small amount of water. They can also be used to regulate waterflow into deeper canals, by placing a stretch of shallow canal segments at the start of a longer canal. |
| Medium canal | ₡10/cell | ₡0.01/week/cell | Medium canals can be used in areas where shallow canals are not deep enough to get water. Use a stretch of medium canal segments at the start of a longer canal to allow less water to get in. |
| Deep canal | ₡10/cell | ₡0.01/week/cell | Deep canals are the deepest canal option and can handle large amounts of water. If your deep canal is prone to flooding, upgrade part of the canal at the start and end to medium or shallow canal to keep the amount of water lower. |
References
Edit
↑ Cities: Skylines. Paradox Interactive. In-game information.
Ad blocker interference detected!
Wikia is a free-to-use site that makes money from advertising. We have a modified experience for viewers using ad blockers

Wikia is not accessible if you've made further modifications. Remove the custom ad blocker rule(s) and the page will load as expected.