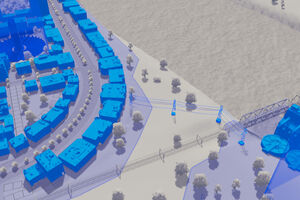 Electricity provides power to buildings through the use of different types of power plants. Some power plants produce pollution and noise pollution. Wind turbines and hydro power plants generate electricity through wind and water currents, with which the power output relies on the speed of the currents.[1]
Electricity is distributed in a couple of ways. Buildings that are connected to electricity can distribute a small radius of electricity to other nearby buildings, beneficial in larger cities where power lines do not have to be used to connect electricity from one to another. Power lines are used mainly for distributing power over greater distances.[1]
Buildings
Edit
Building
Type
Cost
Upkeep
Power generation
Pollution
Noise pollution
Unlock

Electricity
₡20
₡0.48/week
Distributes electricity through greater distances
0
0
Start

*

Electricity
₡6000
₡80/week
0-8 MW
0
75
Start

*

Electricity
₡12,000
₡200/week
0-20 MW
0
75
Boom Town

Electricity
₡19,000
₡560/week
40 MW
50
50
Start

*

Electricity
₡50,000
₡1920/week
120 MW
35
50
Busy Town

Electricity
₡2000/cell
₡3200/week
0-1600 MW
0
50
Small City

Electricity
₡80,000
₡1200/week
160 MW (day)
0 MW (night)
0
25
Grand City

Electricity
₡200,000
₡8000/week
640 MW
0
50
Colossal City

Garbage
₡30,000
₡1,440/week
12 MW
100
50
Big Town

Monument
₡1,000,000
₡8,000/week
16,000 MW
0
75
Megalopolis
References
Edit
↑ 1.0 1.1 "Cities: Skylines User Manual". Paradox Interactive.
Ad blocker interference detected!
Wikia is a free-to-use site that makes money from advertising. We have a modified experience for viewers using ad blockers

Wikia is not accessible if you've made further modifications. Remove the custom ad blocker rule(s) and the page will load as expected.